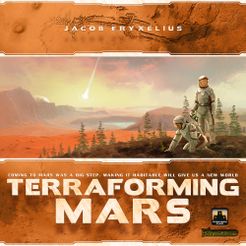 Since I became a board-gamer in 1974, I have had three gosh-wow experiences at the gaming table: Civilization (Avalon Hill) in 1981, Twilight Struggle (GMT Games) in 2008 och Terraforming Mars (Fryxgames) in 2016 – three brilliant designs with much flavor, suspense and gaminess.
The theme of Terraforming Mars is to make the Red Planet habitable to humans by executing hi-tech projects that raise the temperature, improve the atmosphere and create oceans. Each player runs a megacorporation, either a "plain vanilla" one or one with unique advantages and limitations (e.g. top-notch biotech combined with budgetary constraints). One round is called a generation so a match spans centuries. When three predetermined targets have been reached — usually after only a few hours of play — the match ends and scores are calculated. Victory requires a clever mix of resource management and worker placement.
The components are a gameboard that depicts the Martian hemisphere with the Hellas basin and Vallis Marineris; card decks; plastic cubes in various colors and sizes that represent resources and properties; and hexagon tiles that represent cities, oceans and forests. Quality ranges from OK (the cubes) to excellent (the Mars board). My sole complaint is that the card texts are too tiny for my middle-aged eyes — next time I will use a magnifying glass.
Ultrashort Summary
The resources megacredits, steel, titanium, plants, energy, and heat are used to purchase and play project cards, construct industrial facilities, cultivate vegetation and carry out a lot of other ventures that will make Mars habitable. New cash arrives automatically every turn, but when it comes to everything else each corporation must establish its own production.
About 200 unique project cards represent dramatic events (e.g. crashing an ice asteroid onto Mars); inventions (e.g. a new energy source); and political maneuvers (e.g. making a cartel to take resources from a competitor); et cetera. Some deal with events on Earth (e.g. corruption and media coverage) and others with ventures among the asteroids and the moons of Jupiter (these celestial bodies are handled abstractly).
Success is costly, and bottlenecks in your corporation's cash flow and energy production frequently obstruct your strategies. Unspent resources can be saved from turn to turn except for energy, which turns into waste heat that warms the planet (a clever notion). Certain ecological projects require specific oxygen levels and temperatures. The megacorporations can harass each other with cards that pilfer energy, cash or metals through cartels, cybercrimes, and raids; however, these cards are optional and can be removed from the deck before play.
The match ends when all ocean tiles are in place and Mars's oxygen level and average temperature have reach their predetermined targets. The players calculate victory scores from general terraforming contributions; the emplacement of city, forest and ocean tiles; and accumulated points from specific projects (e.g. animal husbandry).
The rules are easy to grasp and the players' challenge is to execute their plans skilfully, because there are many paths to victory. Furthermore, a solo-play option is provided. And, yes, the designers have been inspired by Kim Stanley Robinson's Mars trilogy: there is an oblique reference in the rules where some explanatory examples contain three gamers named Kim, Stanley and Robinson.
My Verdict
5 Red Planets out of 5. I'll actually upgrade it to 5+, because of the game's high gosh-wow density.
Fryxgames News
I have learned that the Fryxgames designers are working on expansion kits with new maps for Mars and possibly other celestial bodies. Yes, please!